Click on one of the items below for more information:

I CARE CAT! Who is he? He is a puppet who comes with Teacher Kathy to visit the children. He is called I Care Cat because he cares about others and their feelings. We want to intentionally take time to prepare children to be happy, caring, loving and responsible individuals.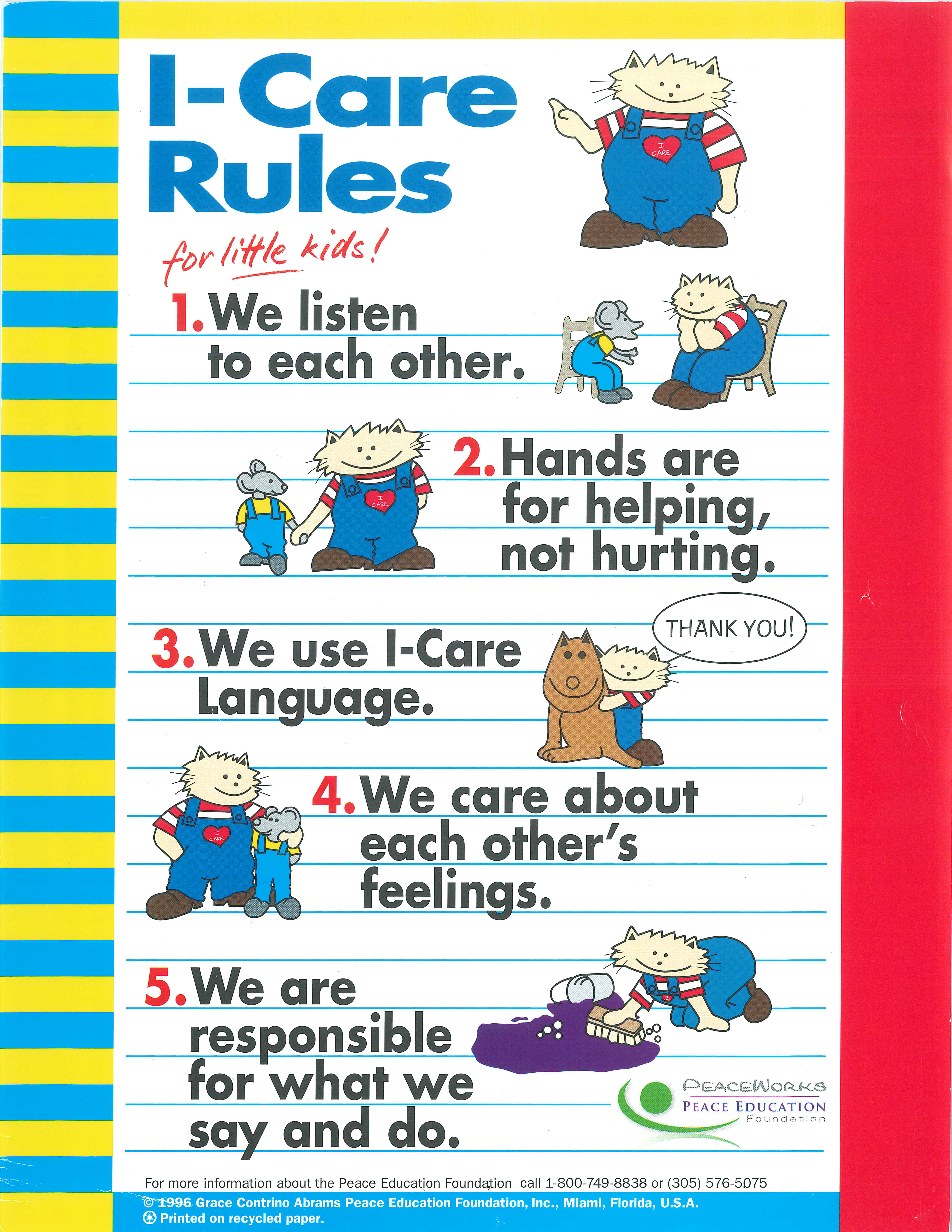 COOKIES…BITE-SIZE LIFE LESSONS
By Amy Krouse Rosenthal
This is a very sweet book. The author cleverly uses cookie baking to impart wisdom, making it easy for kids to understand some pretty complex ideas. She uses the story line of cooking almost everyone's favorite cookie, the chocolate chip, as a means of illustrating some basic principles of behavior.
For example, honesty. "I have to tell you something. The butterfly didn't really take the cookie -I took the cookie."
Or cooperation. "How about you add the chips while I stir?"
So this year we'll be teaching about virtues with cookies …we all know cookies taste good, but these cookies also have something good to say!

September

COOPERATE

Hour about you add the chips while I stir?

October

PATIENT

Patients means waiting and waiting for the cookies to be done

November

FAIR

Fair means you get a bite, I get a bite. You get a big bite, I get a big bite.

December

GENEROUS

Generous means offering some to others. Please take one. You too. Anyone else want a cookie?

January

POLITE

Polite means, Excuse me, can you please pass the cookies? Thank you

.

February

HONEST

Honest means, i have to tell you something. The butterfly didn't really take the cookie - I took the cookie.

March

COURAGEOUS

Courageous mean, It was not easy for me to tell you that I took the cookie, but I took a deep breath...and made the words come out.

April

LOYAL

Loyal means that even though the new person has a much bigger cookie, I'm sticking by you and your little cookies because you're my very best friend.

May

OPEN-MINDED

Open-minded means, I've never seen cookies like that before, but, uh, sure, I'll try one.

Preschoolers love music and they love to move! They are at an ideal age to expand their musical knowledge and abilities.

During music class, the children are given plenty of opportunities to express their singing voice and emerging musical knowledge through song, dance, movement, instruments, and games.

Our hope is that the children will develop a love for music that will last a lifetime!